Sports News
Sports News
28 March 2018 (by Darren Moseley (darren.moseley@girlingtonprimary.co.uk))
West Yorkshire Finals at Leeds Beckett University - Sports Hall Athletics.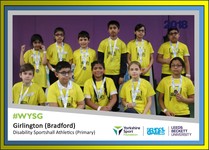 Our Sports Hall Athletics Team competed against schools from across all 5 districts in West Yorkshire.
After giving it their maximum effort we were delighted to come 2nd place and win silver.
A fantastic and inclusive day for all of the children to be given the chance to participate in many events.
Well done.