Sports News
Sports News
26 September 2018 (by Darren Moseley (darren.moseley@girlingtonprimary.co.uk))
Under 9's Boys Football Competition.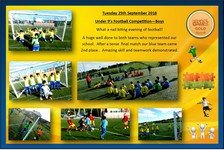 Held at Beckfoot Thronton.
2 teams attended this event.
Some fantastic football was played throughout.
Grilington Yellow Team came 6th
Girtington Blue team came 2nd after winning 5/6 matches and only losing the final match by 1 goal.
excellent teamwork throughout and sportsmanship also.
We are very proud of you.
Share this: