Sports Competition News
Sports Competition News
8 October 2018 (by Darren Moseley (darren.moseley@girlingtonprimary.co.uk))
Under 9's Girls Football Competition.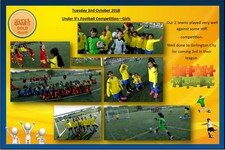 Tuesday 2nd October.
2 Teams represented our school in this event. Both teams played very well and gave maximum effort.
After some stiff matches out Girlington City team were announced as 3rd in their league.
Good sportsmanship was shown from our girls throughout.
Well done.
The Under 11's Girls takes place 9/10./18. Watch this space for updates............
Share this: