Sports Competition News
Sports Competition News
10 October 2018 (by Darren Moseley (darren.moseley@girlingtonprimary.co.uk))
Under 11's Girls Football.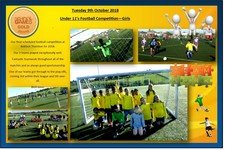 On Tuesday 9th October, 2 teams traveled to Beckfoot Thornton for the Under 11's Girls Football Competition.
10 teams attended in all from the West Bradford Cluster.
Excellent teamwork, skill and sportsmanship from our girls was evident throughout.
One of our teams managed to come 3rd in their league and 5th overall.
Well done girls.
Share this: